After opening earlier this year, the Parc Olympique Lyonnais has quickly become one of France's finest sporting venues.
It's hosting a range of matches for Euro 2016, with Northern Ireland representing British interests in the group stage as they face off against Ukraine.
You can drive down to Lyon with relative ease. Though the journey is pretty long it's all on big main roads, and because the stadium is on the outskirts of Lyon it's easy to reach.
If you're thinking of driving down to Lyon to watch some matches we've put together a little guide to give you the best routes to the Stade de Lyon.
Lyon Stadium
Lyon has had a sports stadium since 1926, when the original Stade de Gerland was built. This was home to Lyon's legendary football club Olympique Lyonnais from 1950.
The team dominated the French Ligue 1 throughout the early 2000s and moved to the new stadium, officially known as the Parc Olympique Lyonnais, in 2015.
The new stadium is often called the Grand Stade de Lyon, or just Stade de Lyon, and it will be holding group stage matches as well as the last 16 playoffs and a semi-final.
Stade de Lyon
In 2008 the French government agreed to the building of the new Stade de Lyon but various issues delayed construction and the stadium didn't open until January 2016.
With a capacity close to 60,000, the stadium is one of France's finest and offers a superb match experience.
London to Lyon
If you're driving from London to Lyon you can take either the Channel Tunnel or the ferry. The Channel Tunnel cuts down your total journey time considerably, and to get to the terminal from London is easy.
Take the M20 and follow signs for Dover/Channel Tunnel/Maidstone
At junction 11A, exit toward Channel Tunnel
Continue onto Vehicle Departure Rd
Take the Channel Tunnel train to Calais
Calais to Lyon
On arrival at Calais you can then undertake the journey down to Lyon. The drive from Calais to Lyon will take in the region of about six and a half hours, which you could do in one shot, but given the travel time you'll have already undergone from the UK to Calais you may wish to break the journey up.
Good places to stop for an overnight stay include:
These will split the journey nicely, and all offer plenty of choice when it comes to accommodation and dining. If you have time to spare then you can do some sightseeing too.
Whether you decide to have a stopover or not, this is the route to take from Calais to Lyon:
Get onto the A16
Take the A26/E15 exit toward Saint-Omer/Arras/Reims/Paris
Continue onto A26/E15
Continue to follow A26
Take the exit on the left onto A4/E17/E46/E50 toward Lyon/Metz-Nancy/Reims-Sud
Continue to follow A4/E17/E50
Take the A26 exit toward Saint-Gibrien/Châlons-en-Champagne/Troyes/Lyon/E17
Continue onto A26/E17
Take the exit on the left onto A5/E17 toward Molhouse/Lyon/Chaumont/Dijon
Keep left at the fork to continue on A5
Merge onto A31
Keep left to continue on A31/E17/E21, follow signs for A6/Lyon/Chalon-sur-Saône/Beaune-Centre
Continue onto A6/E21
Keep left at the fork to stay on A6
Keep left at the fork to stay on A6, follow signs for Lyon-Center
Take exit 39b toward Lyon-Centre
Once in Lyon follow directions either to your hotel or to the Stade de Lyon, which will be marked Parc Olympique Lyonnais.
Paris to Lyon
If you don't fancy the journey by ferry or Channel Tunnel then you could fly into Paris and hire a car for the onward journey. That way, you get to bypass the cross Channel journey and enjoy a straightforward motorway drive down to Lyon.
The route from Paris to Lyon will take about four and a half hours and is as follows:
Get onto the A3/A6/Périphérique/Porte de Bercy/Charenton
Keep left at the fork, follow signs for Aéroport Orly/Lyon/Périphérique Interieur/Quai d'Ivry/Porte d'Italie and merge onto Bd Périphériqu
Take the A6B exit toward A10/Bordeaux/Nantes/Lyon/Évry/Aéroport Orly-Rungis
Continue onto A6B
Keep left at the fork to continue on A6B/E15, follow signs for A6/Évry/Lyon/Chilly-Mazarin
A6B/E15 turns slightly right and becomes A6/E15
Take the exit on the left onto A6/E15 toward Genève/Lyon/Chalon-sur-Saône/Beaune-Hospices
Keep left at the fork to continue on A6
Keep left at the fork to stay on A6, follow signs for Lyon-Center
Take exit 39b toward Lyon-Centre
Like most routes on major motorways in France there will be tolls to pay, so make sure you have sufficient cash or be prepared to pay by card.
Lyon, France Map
The map below shows Lyon and the stadium's location within it: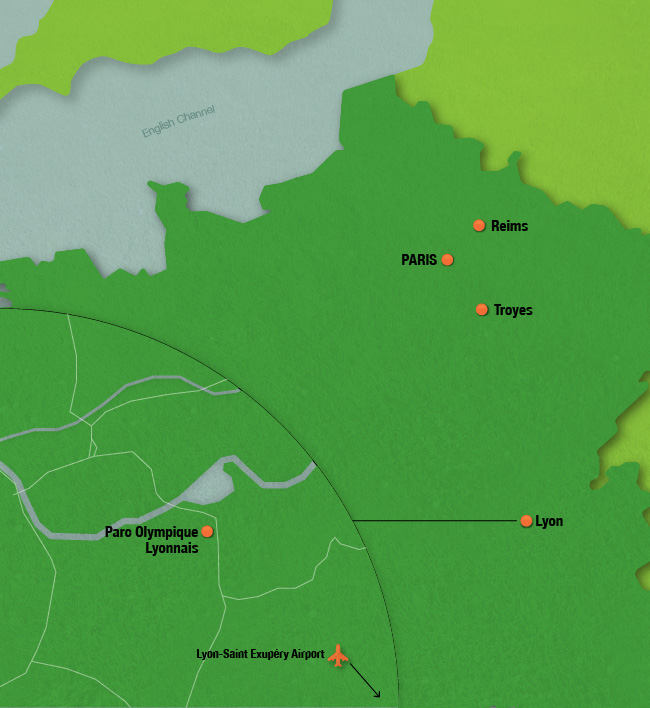 It may be a long drive down to Lyon, but it gives you the opportunity to see a large swathe of France.
Plus, if you take a couple of stops at various points along the way, you'll be rested before the big game and able to fully enjoy the atmosphere of Euro 2016.
---
Get covered in Europe
With our Euro Plus annual cover, you'll get both our
 5* rated UK cover and cover for Europe, with up to 40% off when you buy online.
Related articles
European Breakdown cover

For single trips or short breaks abroad.
Learn more
Get a quote
For complete peace of mind when traveling abroad multiple times within a year.
Learn more
Get a quote
Only available for cars less than 16 years old