If you want to follow the ups and downs of your national team during Euro 2016, then driving over to France to watch some of the matches will let you enjoy more of the atmosphere than watching from your living room or the local pub.
On 16 June, the Stade Bollaert-Delelis in Lens is hosting several matches, including a UK derby between England and Wales. If you want to be there in person, follow our driving guide to make sure you get there with ease.
Stade Bollaert-Delelis
The stadium was initially built in 1934, and started out as a small oval stadium, with a capacity of 12,000 and a single grandstand with the rest of the seating made up of terraces. At the time it was named the Stade Félix-Bollaert.
During the '70s the stadium was enlarged with additional grandstands and was then given new stands before the 1984 European Championships to bring its total capacity up to 51,000.
In 2012 it received the new name Stade Bollaert-Delelis to honour the passing of the former mayor of Lens, André Delelis who had held the position for 32 years until 1998.
The stadium is situated just a kilometre from Lens' central railway station, right in the middle of the city. This does mean that accommodation and restaurants are nearby, but as Lens is a relatively small city they will quickly become booked and crowded during the Euro 2016 matches and many will choose to stay in Lille or even Paris.
Driving to the Lens Stadium
It's perfectly possible to drive from the UK straight to Lens, and the journey is so easy that driving from the UK will make the most sense for many. If you're not familiar with the rules of the road in France you can find out more by reading our guide to driving in France.
Lens France Map
The map below shows Lens and its location in France. Its proximity to Calais, Lille and Paris makes it easy to reach by car no matter where your starting point.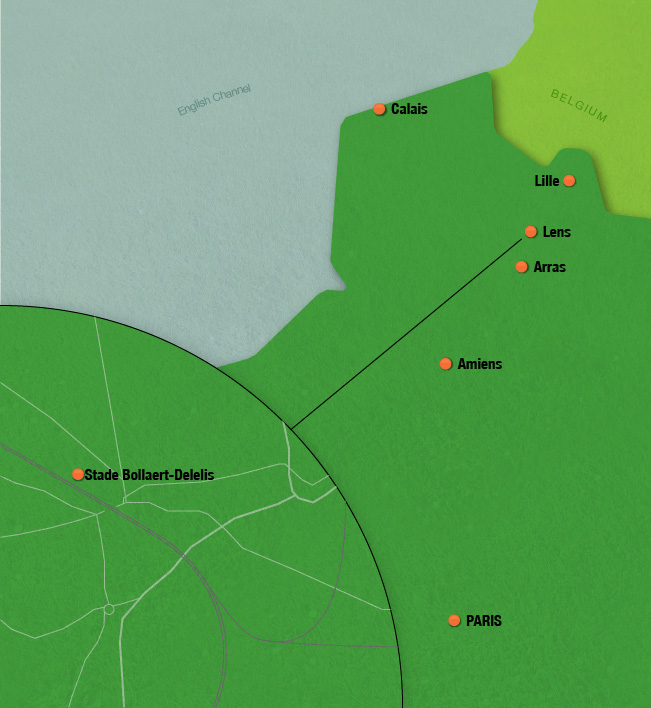 London to Lens
If you're driving from London to Lens then your destination will be either Dover, for the cross-channel ferry, or Folkestone, for the Eurotunnel. Either way, you need to get onto the M20 and follow signs to Dover/Channel Tunnel/Maidstone.
If you're heading to Dover you'll need to:
Take the M20 until you continue on to the Holywell Coombe Viaduct/A20
Follow the A20 into Dover and then follow signs to the ferry port
If you opt for the Eurotunnel you should again follow the M20 but exit at junction 11A, which will be signposted for the Eurotunnel. Follow the signs straight to the terminal.
Calais to Lens
On arrival at Calais you have a drive of about an hour or so into Lens. The drive from Calais to Lens is well signposted and on good roads, so shouldn't present any problems.
This is the route that will take you into Lens, and from there you can follow directions to your hotel, or onto the stadium if you aren't staying over in the city.
Head west on Rue des Communes toward Rue du Pont Neuf
Turn left onto Rue du Pont Lottin
Continue onto Rue Charost
Turn left onto Rue du Temple
Turn right at the first cross street onto Rue du Général Chanzy
Continue onto Rue du Four À Chaux
Turn left onto Rue de Lille/D245
At the roundabout, take the first exit onto Rue Chevreul/D245
Merge onto A16
Take the A26/E15 exit toward Saint-Omer/Arras/Reims/Paris
Continue onto A26/E15
Take exit 6.2 for A21 toward D301/Liévin/Lens/Douai/Lille
Continue onto A21
Take exit 13 toward Lens-Centre
Paris to Lens
If you decide to stay in Paris, or fly into Paris and then hire a car to drive onto Lens, you'll find getting from Paris to Lens pretty easy. Several roads on this route are toll roads, so make sure you have cash or card on hand to pay the fares.
Before the more detailed instructions, make your way onto the A3 leaving Paris, then:
Merge onto the A1
Keep left at the fork to continue on A1/E15, follow signs for Arras/Lille/Calais
Take the exit onto A26/E15 toward Béthune/Calais
Take exit 7 toward Arras/Lens/Vimy
Keep left to continue toward N17
Keep right, follow signs for N17/Lens/Thélus/Vimy/Liévin and merge onto N17
At the roundabout, take the third exit and stay on N17
At the roundabout, take the second exit and stay on N17 heading to Lens/Liévin/Avion
Continue onto A211
Take exit 14 toward Lens-Centre/Gares
Lens is one of the easiest venues to reach for Euro 2016 if you're travelling by car, so there's no excuse to miss out on the excitement of the tournament.
---
Get covered in Europe
With our Euro Plus annual cover, you'll get both our
 5* rated UK cover and cover for Europe, with up to 40% off when you buy online.
Related articles
European Breakdown cover

For single trips or short breaks abroad.
Learn more
Get a quote
For complete peace of mind when traveling abroad multiple times within a year.
Learn more
Get a quote
Only available for cars less than 16 years old