The French Riviera was made for road trips. With its miles of rocky coastline and mountainous regions, it provides exciting drives as well as incredible scenery.
Driving to the south of France and then trekking around the French Riviera should be high on any car enthusiasts list, especially if you have a convertible to really make the most of the weather.
French Riviera holidays
With blue skies and blue waters that stretch on forever, French Riviera holidays have been popular with sun seekers for hundreds of years. It was even a winning winter destination for the British aristocracy towards the end of the 18th century.
But there's more to do than simply sun yourself on the beach, as the Côte d'Azur is home to many of France's most beautiful historic towns and villages, as well as glittering urban hotspots like Cannes and Nice.
There are dozens of destinations to choose from, but here's a small selection that offer up French Riviera holidays you won't soon forget.
Marseille. As France's major port, Marseille has a long and illustrious history. It has always attracted tourists thanks to its beaches and culture, and it's a favourite destination on Mediterranean cruises. Marseille is France's second largest city so you won't struggle for entertainment, though for many it doesn't give the best of the Côte D'Azure as it's so urban.
Grimaud. Situated slightly inland, Grimaud offers a more rustic experience of the French Riviera. The town is a 'perched village', meaning it's situated atop a hill with an ancient castle as part of the town. Port Grimaud can be reached easily for those who want to explore the coast, and is a stone's throw from St-Tropez.
St-Tropez. If you want glamour and glitz this is the place, but be prepared to fight for a spot on the beaches during the summer months. Because of its popularity as a party destination, you'll find St-Tropez an expensive, and possibly slightly hollow, experience.
Cannes. The prototypical French Riviera resort, Cannes has it all: swathes of sandy beaches, towering 5-star hotels and super yachts bobbing on the Mediterranean.
Nice. A classic among French Riviera holidays, Nice is an interesting mix of natural beauty, plastic glamour and congested metropolis. You'll be hard pressed to find better weather, and the beaches are stunning, but expect awful traffic and some less than beautiful areas.
Monaco. The haven of the super rich, Monaco's appeal is it's incredible harbour and towering cliffs, with ancient buildings crammed in along winding streets. A holiday here will be very expensive, but it's worth a visit as part of a wider French Riviera road trip.
French Riviera map
This map of the French Riviera shows some of the major destinations to help you plan out your road trip along the Côte d'Azur.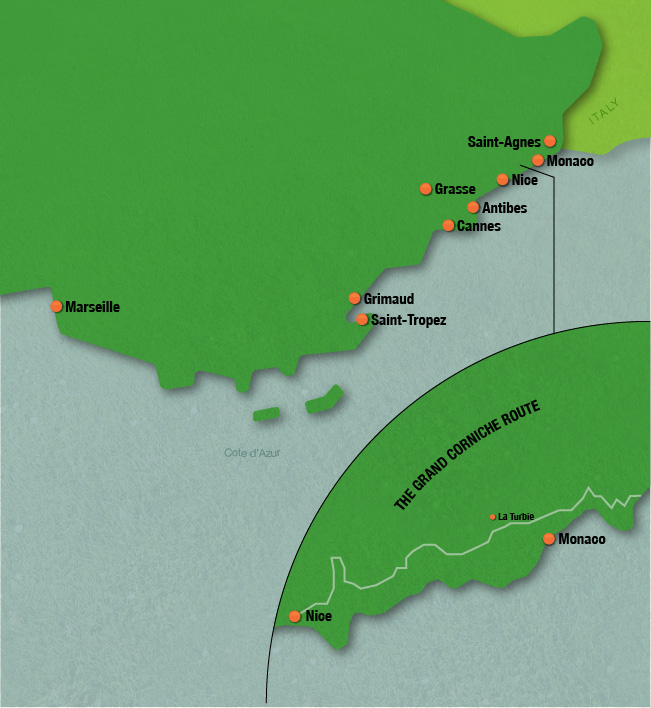 Road trip to French Riviera
There's no official boundary for the French Riviera, though Marseille and Cassis are regarded as the most westerly points and the border with Italy as it's eastern extreme. So if you want to take a road trip to the French Riviera the exact route you take will vary based on your destination and your setting off point.
Either way, a road trip to the French Riviera offers some fabulous driving, so soak up the changing scenery as you make your way through France down to the southern coast.
Scenic drives in France
When you arrive at the Riviera there are several beautiful drives you can undertake. Here are a few to whet your appetite:
The Grand Corniche. This road was constructed by Napoleon, and towers 1,600 feet above sea level, offering some of the most spectacular views of the Riviera. You'll find the route beginning just outside Nice and you can follow its winding trail all the way to Menton, called The Pearl of France. The hill town of Saint-Agnès is worth a detour for its atmosphere and the historic Fort Maginot de Sainte Agnes. If you want to stretch your legs you can also stop and take a stroll through the Grand Corniche Park.
Monaco to Nice. While you could try out the famed F1 route in Monaco, you'll likely be disappointed as it's often congested and has strict speed limits in place. Instead head out onto the open roads and take the D23 up to Saint-Agnès along the tightest, windiest roads you're likely to come across, then follow the D22 through the mountains and ease your way down to the coast and on to Nice.
Antibes to Grasse to Cannes. If you head off from Nice down the coast to Antibes you can enjoy a stretch of the Route du Bord de Mer. From here drive inland to Grasse, land of flowers and perfume. Enjoy the clean air and sweeping views, and be sure to explore the town, before heading down to the glamour of Cannes.
Driving to the south of France
If, like most people having a driving holiday in France, you arrive in Calais (either by ferry or Eurotunnel) then you'll find the routes take you on pretty easy motorways all the way down to Marseille, or other major cities in the region. You can plan out your trip using our route planner.
The drive down to the French Riviera is about 10 hours or so, if traffic is good, so it's definitely worth splitting up over a few days. That way you can also take in parts of inland France along the way, such as Lyon and Avignon.
---
Get covered in Europe
With our Euro Plus annual cover, you'll get both our
 5* rated UK cover and cover for Europe, with up to 40% off when you buy online.
Related articles
European Breakdown cover

For single trips or short breaks abroad.
Learn more
Get a quote
For complete peace of mind when traveling abroad multiple times within a year.
Learn more
Get a quote
Only available for cars less than 16 years old