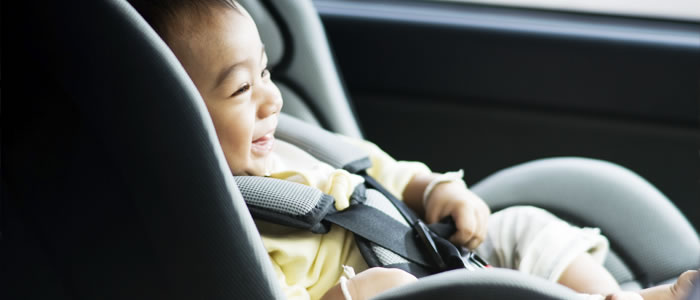 It is now the law that children must use a child car seat until they are 12 years old, or are 135cm tall. If you haven't bought a child car seat before, it can be daunting but there are three golden rules:
Never buy a second hand child car seat
Choose the correct seat for your child's age, weight and height
Get professional advice as to whether the child car seat will fit your car
Anything could have happened to a secondhand child car seat. It may have been involved in an accident; the seat's plastic shell may have expired (they have a shelf life of between five and 10 years); or it may not be compatible with your car.
It is vital that you research which type of seat is suitable for your child's weight, height, age and stage of physical development. There are three types of seat: infant, child and booster. Here are the appropriate (and approximate) age ranges for each type.
INFANT SEAT
(Group 0+)
CHILD SEAT
(Group 1)
BOOSTER SEAT (Group 2,3)
Age range: Newborn to 15 months
Age range: Nine months to four years
Age range: Four to 12 years
Weight: 0-13kg
Weight 9-18kg
Weight: 15-36kg
Height limit: Top of head level with the top of seat
Height limit: Eyes level with top of seat
Height limit: 135cm
You can out more about the types of seats at RoSPA's website, Childcarseats.org.uk, or goodeggcarsafety.com, which is supported by Road Safety Scotland, Brake and the Transport Research Laboratory.
Take a good look at impartial reviews of child car seats to build a reliable picture of which seats perform well and those that are a waste of money. Mother & Baby magazine gets more hands on, with a panel of readers that put a wide range of car seats through their paces. Consumer magazine Which? goes one step further still and simulates a car crash with real cars and crash-test dummies, and looks at a seat's ability to protect the child in the event of a front impact and a side-impact.
The safest mechanism for installing a child car seat is known as ISOFIX. It has become an international standard for securely latching a seat to a car's permanent anchorage points, and is significantly safer than a seatbelt-mounted child seat in the event of an accident.
The safest seating position for young children is to face the rear of the car. These days, it's possible to buy a seat that can be rotated which make light work of putting babies or toddlers into the car, and keeps them safe on the move.
It's also worth bearing in mind that some baby seats can be removed and attached to a pushchair, using special adapters to lock them in place. As any parent will tell you, this is a handy feature given how children have a habit of falling asleep in a car.
Once you've identified the safest seat for your budget and needs, check with the seat maker, or your vehicle manufacturer, whether it is compatible with your car. Often, the manufacturers publish an up-to-date listing online.
Mums and dads may find it hard to resist saving money by buying online, but it's only advisable to do this if the retailer offers to fit the seat for the first time. That way, parents can be sure they'll install it correctly in the future.
---
UK breakdown cover
See how we keep an eye on you while you keep an eye on the road.
---
Up to 40% off our phone prices when you buy online.
---