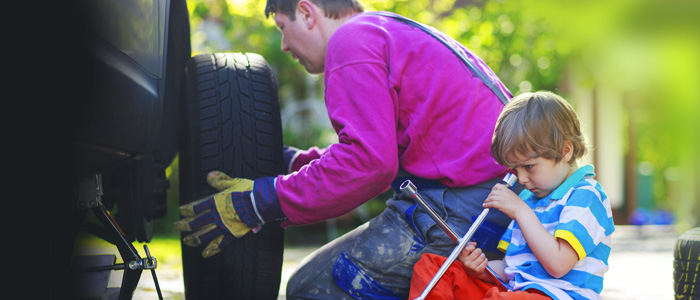 Green Flag will always come to your assistance, no matter what. But with flat tyres some people prefer to change wheels themselves. Here's what to do if you do suffer a puncture.
As soon as you notice you have a flat tyre, slow down and find a safe place to stop off the road that's on a stable, flat surface.
If you're on the motorway, do not try to change a tyre (even if you're on the hard shoulder or in an emergency area). This article explains what to do if you break down on the motorway.
Put on a high visibility vest and place a reflective hazard warning triangle plenty of distance behind your car, to alert oncoming traffic. Then locate the spare wheel, the jack, wheel brace and locking wheel nut key. All should be either under the boot floor, under the car or in some SUVs on the back door.
If you can't find a spare wheel, your car may instead be equipped with mousse that can be squirted into the tyre through the valve. This is only a temporary solution to get you home and you should get the tyre changed as soon as possible.
To remove the punctured wheel and tyre, loosen the wheel nuts with the wheel wrench, but don't remove them yet. If you can't see the wheel nuts, you may have to prise off a cover first. If your car has alloy wheels, one of the nuts is likely to be locking. There will be a key that will fit into the wheel brace to undo this.
Check the handbrake is firmly on and put the car into first gear. Find the jacking point by looking in your car's manual, and use the jack to raise the car so that the wheel with the punctured tyre is off the ground.
Now fully remove the wheel nuts and take off the wheel. If the wheel won't budge, call Green Flag: pushing and pulling it could bring the car off the jack.
Lift the spare wheel onto the hub, line up the holes and screw in the nuts until they're finger tight.
Once the wheel is secure, lower the jack and use the wrench to tighten the wheel nuts fully.
Check them all twice to be sure none is loose. Remember if your car has a space saver spare wheel your top speed and the number of miles you can cover is limited.
---
UK breakdown cover
See how we keep an eye on you while you keep an eye on the road.
---
Up to 40% off our phone prices when you buy online.
---