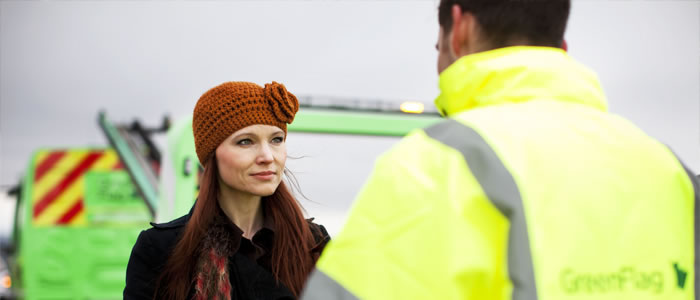 Cars are immensely complicated devices combining sophisticated mechanical and electronic components. There's a lot that can go wrong; here are the most common causes of breakdown that Green Flag's technicians respond to around the UK.
Battery
A flat or faulty battery is the number one cause of vehicle breakdowns. It's usually signalled by either complete silence or the starter motor sounding as if it's about to grind to a halt. This is caused by a lack of sufficient current for it to turn the engine over.
Warning signs
The engine starts to turn over more slowly than usual. The red battery light in the instrument display may flicker when you're driving, or take longer than usual to go out after you've started the engine.
Alternator
The battery might power the car's electrical components such as lights, windscreen wipers and sound system but the alternator uses energy from the engine to keep the battery charged. If it fails your battery will run out of charge, even if it's brand new.
Warning signs
Unfortunately there is no way to maintain an alternator, but warning signs to look out for include a flickering battery warning light, dimmed headlamps and dashboard lights, as well as slower than usual windscreen wipers.
Starter motor
Typically, faults with a starter motor only present themselves when it fails to start the engine. Regular maintenance checks can help to prevent any problems with your starter motor.
Tyres
Never hit the road without a serviceable spare wheel or a temporary puncture repair kit in the car. While tyre failure is generally caused by debris in the road, it can often be prevented. A prime cause of tyre failure is under-inflation which causes tyres to overheat. Ensure that you check your vehicle's tyre pressure and tread condition as often as you fill the car with fuel. If one tyre regularly needs air it either has a slow puncture or a problem with the valve. You should get it inspected.
Electrical
As cars get more complex, electrical problems become more common. They can lead to strange behaviour; they're frequently difficult to diagnose and hard to fix at the road side. Sometimes they can be rectified by simply turning the car off and back on again, as you might a computer. Unusual symptoms need checking out before they cause a breakdown.
Warning signs
Systems powered by the electrical system can start behaving erratically.
---
UK breakdown cover
See how we keep an eye on you while you keep an eye on the road.
---
Up to 40% off our phone prices when you buy online.
---