Flying has become the default travel method for most holidaymakers, especially with cheap flights to continental Europe available from airports across the country. But self-drive ski holidays offer a fun and footloose way to get to your destination.
Self-driving also cuts out the costs of transfers from the airport to your resort, or the expense of a hire car - both can be pricey once you touch down on French tarmac.
Many of the best ski resorts in France are within a 10-hour drive of Calais, and Tignes is one of the most popular.
Self-drive ski holidays
Self-drive ski holidays have a number of benefits, including:
No luggage restrictions
No ski carriage charge if you're taking your own equipment
You can travel at your own pace and take in other areas of France en route
When you arrive at the resort you can visit nearby towns and villages with ease
Although self-drive ski holidays offer unparalleled freedom they do require a little extra planning.
Most importantly you have to make sure your car is able to complete such a long journey, and deal with adverse weather such as snow and ice.
Keep in mind the following tips for driving in mountainous regions:
Get snow tyres or chains. In the winter months it is a requirement to carry snow chains at all times. Having snow tyres fitted makes sense as they'll make driving and handling easier.
Drive slowly. You only have to look at the mayhem on the roads every time it snows in the UK to know that us Brits aren't great drivers in snowy weather. The most important thing is to drive slowly, and move down through gears to slow down. Sharp braking will lead to skids and accidents.
Never run on empty. Road closures are pretty common up in the hills, due to bad weather or accidents, and diversions can add a lot onto journeys, so always keep your fuel tank topped up.
Try not to stop. If you're driving up a hill in snow it's important to keep moving forward. If you stop it can be very hard to get started again, and your car may slide back into others.
Also be aware of the rules of the road in France, so that you don't break any laws or have any run-ins with local drivers. You can get a run down of the most important issues by reading our guide to driving in France.
Tignes Ski Holidays
Tignes is a favourite amongst skiers and snowboarders thanks to its almost year-long ski season and 300 kilometres of pistes of varying difficulty.
While many ski resorts are old and have a picturesque holiday feel, Tignes was custom-built for ski holidays and, in terms of the resort itself, it lacks some of the charm of other destinations. But the surroundings are as good as it gets.
Be aware that Tignes is not one single town, but five villages that are spread out and offer different access to the slopes, as well as having different amenities.
The villages are:
Val Claret. This is the highest altitude village, perched at 2,100 metres. This offers the easiest access to skiing and has a great selection of hotels, shops and restaurants, so you're right in the thick of it. This is the most popular choice for Tignes ski holidays.
Tignes-Le-Tac. This village is situated a little further down the road from Val Claret, and offers a similar experience to its loftier cousin.
Le Lavachet. This village is further down the mountain and offers a range of cheaper apartments. However it's much less convenient for access to the lifts, and you'll need to take the ski bus.
Tignes-Les-Boisses. At 1,800 metres you're a bit further away from the slopes, but this village has its own lifts straight to the ski area. On the downside the selection of shops and restaurants is less extensive than the resorts higher up.
Tignes-Les-Brevières. This is the lowest of the resorts, at 1,500 metres, and is similar to Tignes-Les-Boisses.
Where you stay for your Tignes ski holiday is up to you, but check which Tignes village you'll be in as sometimes this isn't made clear by holiday operators.
How to get to Tignes
The majority of the route down to Tignes will take you along France's toll roads. These motorways are well maintained and simple to navigate with good signs for major towns and other motorways. You can pay your tolls in cash or by card.
The drive from Calais to Tignes will take around about 10 hours, so it's advisable to split the journey up into two and stop off at one of the cities or big towns on the way. Some good options are Reims, Dijon or Lyon.
Tignes Map
This map shows you where Tignes is located and the local area.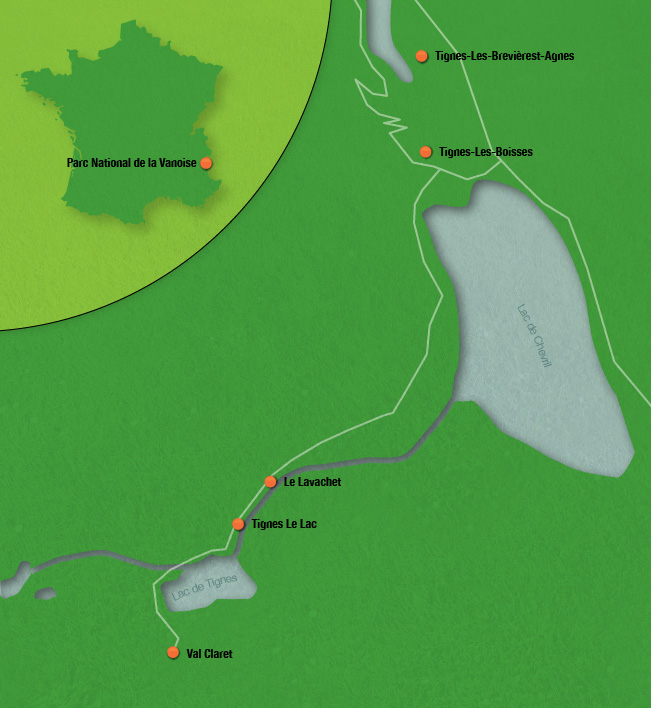 Calais to Tignes
Here is the basic route, which shows you how to get to Tignes, for a more detailed itinerary use our route planner.
After disembarking at Calais you need to join the A26 and follow signs to Reims and Lyon
When you reach Reims you'll join the A4 briefly before getting back onto the A26 and driving on to Troyes
Take the A5 exit towards Lyon/Chaumont/Dijon
Merge onto the A31, stay on the A31 and follow signs for A6/Lyon, this will take you past Dijon
Continue onto the A6
Follow signs for Marseille/Geneva/Grenoble/Lyon-East and join the A46, skirting past Lyon
At Lyon join the A43 and stay on until you exit onto the N201
Follow the N201 until it merges back onto the A43
Follow the A43/E70 until you join the A430
The route then carries onto the N90 and then the D1090 before encountering a series of roundabouts
At the first roundabout take the first exit to the D1090
At the second roundabout take the second exit to Avenue du Stade/D1090
At the third roundabout take the second exit to the D1090
Turn right onto the D902
Turn right onto the D87A and follow it onto Tignes
So, you know how to get to Tignes, what to be aware of when driving there and what to expect when you arrive.
Now book your skiing holiday, grab your kit and hit the road.
---
Get covered in Europe
With our Euro Plus annual cover, you'll get both our
 5* rated UK cover and cover for Europe, with up to 40% off when you buy online.
Related articles
European Breakdown cover

For single trips or short breaks abroad.
Learn more
Get a quote
For complete peace of mind when traveling abroad multiple times within a year.
Learn more
Get a quote
Only available for cars less than 16 years old