With a reputation as one of the best ski resorts in Europe, you'd be forgiven for thinking a trip to Chamonix is all about its top-quality slopes. But if you fancy a summer away from the usual sun and beaches, then this beautiful destination nestled in the French Alps has something to offer all year round.
You can get to Chamonix by plane, with flights landing in Geneva, Lyon or Grenoble. Once you've landed, you can either make a connecting trip or hire a car. The drive is easy, and takes you through France and high into the scenic mountains.
Calais to Chamonix takes about 10 hours total drive time (depending on traffic of course) and it's a great way to get there, without the hassle of delayed flights and cramped planes.
Skiing holidays in France
Chamonix is one of the premier destinations for skiing holidays in France and with good reason. It's accessible, has some of the most incredible scenery, and the most challenging slopes around. But it isn't just for the hard-core off-piste powder hounds. You'll find a variety of ski schools with plenty of courses for beginners at the resort.
Because Chamonix is such a popular destination be prepared for queues and lots of hustle and bustle, but once you set off you're in for an unparalleled skiing experience. With huge open ranges, runs below the tree line and high altitude runs, you'll be left shell-shocked by the mountain's beauty.
If you're looking for a calm and remote skiing holiday in France then Chamonix probably isn't your best bet, but the town has tons of history and charm, as well as all the essentials you'd need on a holiday.
Map of Chamonix
The following map of Chamonix shows you the region and where it is situated in the Alps.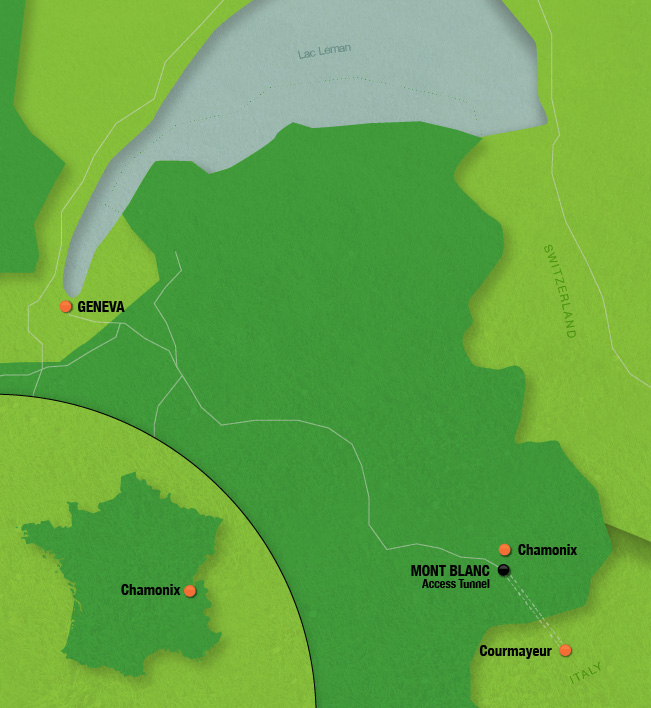 Drive to the Alps: things to remember
Before you head off on your trip to Chamonix, remember that your car will be travelling through terrain that you simply don't get in the UK. Although the route there is pretty much all on easy motorways, once you get within the last 20 kilometres or so the roads change, and the temperatures can get very low, even in the summer (though generally the summer months are pleasant).
So no matter what time of year you're heading off, be sure to take the following:
Anti-freeze
De-icer
Windscreen scraper
Snow chains (these are a legal requirement in the winter)
Torch, in case you break down at night
Shovel, for digging out snow
Tow rope
Heavy gloves for helping when fitting snow chains
Have your car serviced before you leave, and take out European breakdown cover because the costs of repair and recovery can get pretty steep.
If you have never driven in France before then you need to be aware of some of the rules and regulations, which you can get from our article on driving in France, along with general advice.
Drive to Chamonix
Driving to Chamonix is actually pretty straightforward and takes you along a number of toll roads, so it shouldn't present any special navigation issues. To get a detailed plan visit our route planner.
The basic route is as follows:
Arrive at Calais
Drive onto Reims
From Reims head towards Dijon
After Dijon follow signs for Geneva
And finally on to Chamonix
Calais to Chamonix
From the UK you can cross to Calais either by ferry, with dozens of crossings every day, or by Eurotunnel - it's simply a matter of preference. You'll get across faster by Eurotunnel but often the ferry is cheaper, and a more relaxing way to make the journey.
The drive from Calais to Chamonix isn't difficult, but it's long, so it's probably a good idea to break it up over a couple of days. When you arrive at Calais, get onto the A26 toll road – you can pay by cash or card at the toll.
Once you're on the motorway simply follow signs for Reims and Dijon - you'll join various other A-roads along the way.
At Dijon take the A39 and follow it to Bourg-en-Bresse where you'll need to join the A40 and follow signs for Geneva. Then once you're at Geneva, follow the signs on to Chamonix.
Mont Blanc Tunnel
During your holiday in Chamonix you may want to skip across into Italy for a day trip, which is easy thanks to the Mont Blanc Tunnel. The tunnel is just under 12km long and goes through the Alps into Courmayeur in Italy.
Currently, a return ticket through the tunnel for a standard car will set you back 54 Euros and 30 cents.
Be aware that the Mont Blanc Tunnel has customs posts at both ends because it crosses an international border. There is also a strict speed limit in effect:
Minimum speed 50 km/h
Maximum speed 70 km/h
All vehicles are expected to stay 150 metres apart at all times, and a huge network of CCTV cameras monitor the tunnel constantly. To ensure drivers don't clump up there is a time delay in effect between each car leaving the toll booths and signs to remind you to keep a safe distance. If you don't you can expect a hefty fine when you get to the other end, and some drivers have even had their licence confiscated. The fines are as follows:
Driving too close to another car – 135 Euros
Breaking the speed limit – 90 to 750 Euros depending on the severity of the violation, and if you receive the maximum penalty your licence will be taken away from you
Once you pass through the Mont Blanc Tunnel you are just 5km from Courmayeur, which has great skiing and shares access to some runs with Chamonix. If you fancy going further afield in Italy, then Turin is just 151 kilometres m away, so definitely within striking distance.
Getting to Chamonix is a simple drive, and a great choice for those who want a skiing holiday, or just fancy getting a little off the beaten path without going too wild.
---
Get covered in Europe
With our Euro Plus annual cover, you'll get both our
 5* rated UK cover and cover for Europe, with up to 40% off when you buy online.
Related articles
European Breakdown cover

For single trips or short breaks abroad.
Learn more
Get a quote
For complete peace of mind when traveling abroad multiple times within a year.
Learn more
Get a quote
Only available for cars less than 16 years old