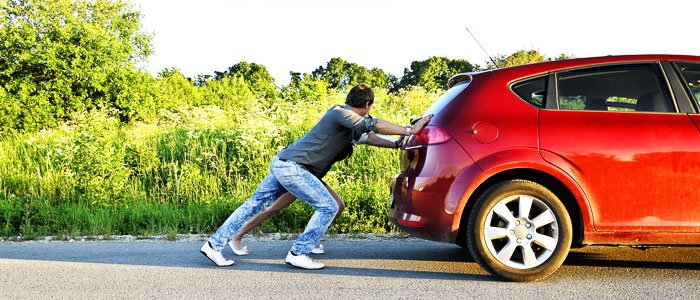 When a car breaks down and is stationary in the middle of the road, it's a natural instinct for drivers to want to get out and push it towards the kerb. But this can be dangerous. The first course of action should be to alert other drivers to potential danger, so switch on the vehicle's hazard warning lights.
Weigh up the relative risks between:
leaving the car where it is and staying in it
leaving it where it is and getting out
pushing it off the road
If you're in immediate danger, such as being stuck on an active lane on the motorway, call 999 now.
This article has more information about what to do if you break down on the motorway.
If you've broken down in a safe location, get in touch now.
Be safe, be seen
All drivers should keep a high visibility jacket in the front of their car. That way, if the vehicle shudders to a stop and they feel they have to get out, other drivers will see them more clearly.
Should it be relatively safe to push a vehicle to a point of safety, put the gearbox into neutral and make sure nobody stands between the vehicle and oncoming traffic, or obscures the hazard warning lights.
You need at least two people to push a car
Enlist the help of others: one person should sit in the driver's seat to control the steering and brakes as the others push. Don't let the vehicle build up too much momentum as the brakes and steering will be less effective with the engine off - this is because they work using power assisted systems. Never try to push a car uphill; the consequences could be disastrous.
If you need breakdown assistance, Green Flag offers nationwide rescue.
For more information on the safe use of roadside verges visit the Survive website at survivegroup.org.
---
UK breakdown cover
See how we keep an eye on you while you keep an eye on the road.
---
Up to 40% off our phone prices when you buy online.
---