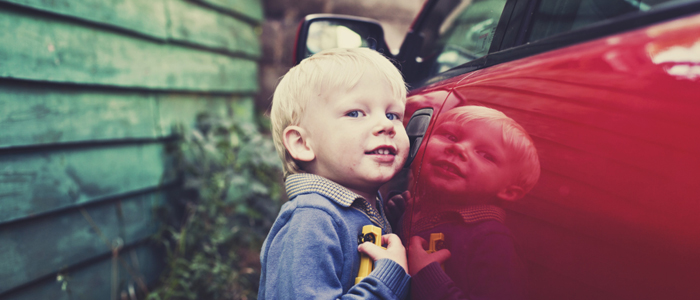 Happy families
Most children love cars. The excitement of going somewhere usually puts them in a good mood. However, a long journey can become tense unless you prepare well and just take it easy. Bored, tired, cramped children quickly become short-tempered little monsters. A long ride in a stuffy, rapidly moving car can easily lead to motion sickness. Comfort and time are the keys to achieving no-stress family trips. Plan for plenty of both.
Keeping them safe
The safety of children in the car is a paramount concern for any parent. It's our responsibility to make sure kids travel safely, by driving defensively, to minimise the risk of having an accident, and by ensuring that children are correctly strapped in.
Children should never travel on an adult's, or another child's lap. Seat belts are designed for one person in each.
Ensure child locks are on whenever there is a youngster in the car, to avoid a door being opened on the move by an inquisitive little finger.
Remember: 'clunk-click, every trip'. The one time you relax your guard and don't bother about safety, is when an accident might just happen.
Children that are suitably restrained are 90 per cent less likely to be killed in a crash and an unrestrained child can be killed in an impact at speeds as low as 5mph. It is therefore of the up-most importance that children travel in the correct child car seat or booster seat for their age, height and weight.
In-car entertainment for kids
Keeping kids entertained on long car journeys can be a challenge. As any parent knows, road trips with the family during the school holidays rarely lend themselves to a restful time. How to keep your kids occupied for hours at a time when they'd rather be running around burning off energy? Planning ahead can make the difference between an enjoyable trip and a nerve-racking one. From babies to juniors, we've put together a selection of the best in-car games and accessories that will help keep your journeys as peaceful and harmonious as possible. Take a look at https://blog.greenflag.com/2014/yet-best-car-entertainment-kids/.
---
UK breakdown cover
See how we keep an eye on you while you keep an eye on the road.
---
Up to 40% off our phone prices when you buy online.
---